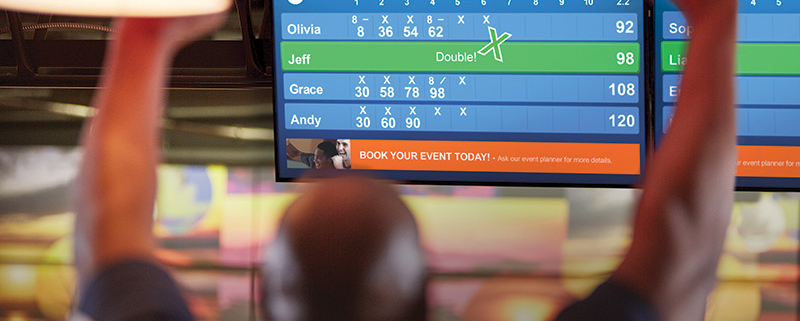 Brunswick Sync® scoring and management system allows bowling centre professionals to leverage technology, data, and marketing automation to better build their databases and better target and reach the marketplace. With Sync, you can create marketing campaigns that are more targeted and effective than ever before.
Leveraging Data for Targeted Campaigns
Eastway Bowl, a 32-lane centre in Sioux Falls, South Dakota, uses Sync's database to create marketing campaigns that are more targeted than what was possible just a few years ago. Eastway maintains an email database within Sync CRM; when customers sign up, they indicate their interests, allowing the centre to segment the database for targeted campaigns. "Digital information on customers is like gold," says Josh Thomas, owner/operator of Eastway Bowl. "Being able to market directly to them with things like Facebook and email marketing campaigns is huge. We can really focus our marketing efforts in that way." Eastway Bowl takes advantage of its database to promote birthday parties. Using Sync, the centre can send interested customers a personalized email and special offers before their birthday.
Real-Life Successful Campaigns Built in Sync.
Royal Pin Leisure Centers, which operates four centres with 270 lanes in Indianapolis, used their Sync database to promote their May the Fourth Be with You event (held on May 4, of course). Emails, in-game ads, overhead ads, transactional emails, and printed receipts were all created using Sync. The event was such a success that Royal Pin filled all four centres, two of which had to go to waitlists. Royal Pin also used Sync to capitalize on the frenzy surrounding the release of the smash hit smartphone game, Pokémon Go. The centres sent emails to their children's birthday database and their adult bowlers, inviting them to the centre to bowl a free game. Youth bowlers brought friends and adult bowlers brought their children. More young people were exposed to bowling, and Royal Pin was able to expand its database. Further south in Georgetown, Texas, Mel's Lone Star Lanes, a 40-lane centre, created a Women Bowling with Wine campaign. The event spanned four Fridays in August and invited women to bring their friends and enjoy bowling, wine, and appetizers. Sync was used to create overhead ads, in-game ads, and posts for Facebook and Instagram.
"Sync has been really successful in enabling us to push out a campaign immediately to all people we already have in the building, as well as on social media," says Rocky Bush, events and marketing director for Mel's. "The minute the women in the centre saw the overhead with the pink background and a cute woman drinking a glass of wine, they came straight to the front counter and wanted information. And we filled the place with less than two weeks advance notice."
Each year, Mel's hosts a Bowler to Veterans Link (BVL) fundraiser. Last year, the centre came up with a great idea for increasing total funds raised. Mel's gave a few select local businesses the chance to sponsor lanes or teams. The sponsors shared all of the centre's in-game tablet and in-game overhead ad space for the entire weekend. "It was a really huge success," says Bush. "We raised over $10,000, and our sponsors got great exposure and great value for their sponsorship dollar."
Another successful campaign involved leveraging the provided campaigns within Sync to introduce Angry Birds Bowling birthday parties. Mel's debuted the Sync-exclusive game by offering two hours of free bowling and shoe rentals. The event was promoted in-centre and on social media advertising, with emails sent directly to their Sync database (including Mel's Kids Club members).
Prizes were given away at the end of the event, and while guests bowled and waited for the prize announcements, they ordered pizza and drinks and played in the arcade. Arcade sales doubled compared to an average Friday, as guests awaited the prize announcements. Overall sales were higher in that two-hour timeframe, even though bowling and shoe rentals were given away.
"We packed the place, filling all 28 lanes twice," says Bush. "It was a super fun event for families to come out and experience what the game was about and to see bowling in a different light. We're going to keep doing community outreach events like that. That way, people will think of us for more than just bowling and think of us for family fun entertainment."
Successful Campaigns are a Snap With Sync
Sync makes database development easy and automates your marketing. Using the Sync database, you can target and reach an audience that's receptive to your message and most likely to act. Creating your own successful campaigns is a snap with Sync! In fact, using one of Sync's stock campaigns, you can go from zero to wow in just five clicks.
Within Sync, select "What do you want to do?"
Select a start or end date
Select your images/graphics
Select your text/copy for your ads
Click "start campaign"
It's That Simple!
Sync elevates marketing automation to a whole new level of ease and effectiveness.
With Sync, you can set up a targeted email blast in 60 seconds or program an entire
year's worth of campaigns in just 30 minutes.
Click here to learn more or to schedule your free, personalized Sync demonstration.
Reprinted from the June 2018 Brunswick Bowling Newsletter
https://strikerbowling.com/wp-content/uploads/2018/06/Sync-Screen-Striker-Bowling.jpg
574
800
Chantal Suthons
https://strikerbowling.com/wp-content/uploads/2017/01/logo-sbs.png
Chantal Suthons
2018-06-25 13:36:45
2018-06-25 15:00:28
SYNC: Real Life Results