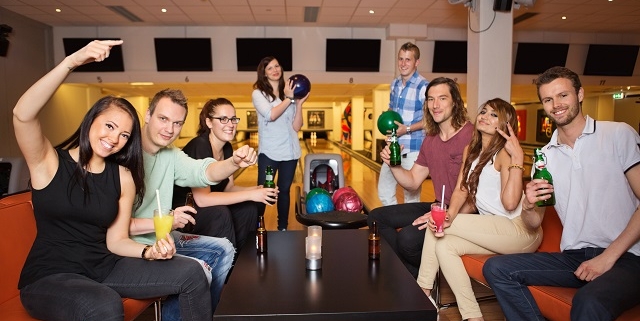 Partially adapted from Brunswick Bowling Center Newsletter, October 2015
Getting more people into your place, one way or another, has long been a top priority for bowling centres. In recent years, group events have accounted for a growing share of total customer counts. On top of kids' birthday parties, a perennial bowling centre staple, many other gatherings have found new homes at their local lanes. These range from company retreats to family reunions to charity fundraisers to holiday outings for clubs and other social groups. The most lucrative of them being the company or corporate event.
This surge in group events has more than offset the dip in league business for many a bowling centre. In fact, the trend has been so strong that hundreds of centres have redesigned their facilities to include private party rooms or VIP sections to better host events.
While you don't absolutely need a separate section to do a booming event business, there are a few areas you need to focus on to make events a part of your business success.
How you market your event space.
How to differentiate your bowling experience to get people to choose your lanes over other venues.
Event management to make sure your events to go off without a hitch so groups will re-book with you next time — and so their individual participants will want to come back on their own.
Tips for Marketing Your Bowling Centre
The rest of this article is going to focus on some tips to help you get your share of those corporate events. These events tend to have the highest per-event spend, so if you can attract them you stand to add a significant boost to your bottom line.
Get Listed in Directories
Event planners often turn to online venue directories when looking for a place to hold an event. Find the local sites in your area and the national sites like uniquevenues.ca and eventective.com. Contact these sites and find out how to get your centre listed on them.
Contact Your Local Chamber of Commerce
One great way to connect with business people is through your local or regional Chamber of Commerce. Try joining your local Chamber of Commerce and asking about hosting a Chamber party or event at your centre. You'll not only get to network with other business people in your area, but you'll get to expose them to your centre as a place to hold their own company events.
Contact Event Planning Groups
Does your area have a local event planning group? Find out and offer to host a meeting or a party for them. This will get event planning professional through your door and give them a chance to experience what you have to offer.
Use Social Media
Social Media is another great way to connect with potential customers. Make sure you have a profile for your centre on all the major platforms and stay active in them. Offer incentives through these channels that will appeal to event planners and business people.  When people hold an event at your location, make sure you are posting photos from the event and including any hashtags the event organizers are using, along with your own venue hashtag. Encourage them to include your centre's profile name or hashtag in their social media posts.
Brunswick's Sync Scoring and Management System can be a big help here. The Sync Customer Relationship Manager (CRM) includes all the tools you need to attract events into your centre — from attention-getting ads to a distribution engine that lets you schedule and send those ads via email, text messages, social media or in-centre displays.
Use Those Emails
Are you capturing the email addresses of your league and open play bowlers? If you have a database of emails, make sure you are communicating to them what you can offer for corporate and group events. Consider offering them special discounts because they're already customers, or offering a referral fee if they send you any event referrals that end up booking in your centre. Just be sure you are complying with Canadian Anti-Spam Legislation (CASL) when collecting these emails so you don't get into any trouble for sending them promotional emails.
Sync can help here, too. The system captures the contact info of every participant of group events held at your centre, letting you reach out to them individually with enticements to return on their own. It also allows league and open play bowlers to sign up for your email list and provides the tools to create and send emails from within the system.
Put Your Website to Work
If you want more corporate event revenue in your centre, make sure that offering is front and centre on your website. You want visitors to see that you can provide an ideal location for their corporate event. They may not even be on your website for an event. Maybe they're just looking for your bowling specials, but they might be the person at their company who plans the annual holiday party – or know that person – and you want to make sure they know you are a potential host.
Tell Them in the Centre
Do you have posters and signage up stating that you book corporate events? If you don't, you better fix that. Just like visitors to your website, they might not be in your centre for an event, but they may be the person who books them for their company. Make sure they know you want their business. If you have a brochure that they can take away with them, even better. If someone does ask for a brochure, make sure you get their phone number or email to follow up. Don't wait for them to get back to you.
Here's another opportunity for Sync to help you out. You can easily create a corporate event campaign in the CRM that includes digital signage, social media posts, email message, and more. By hitting audiences in all these channels with a coordinated message, you greatly increase your chance of catching them at the right time.
Follow these simple tips to and you'll be on your way to making corporate and group events a bigger part of your business. To learn more about all the ways that Sync gives your centre a competitive advantage, contact Striker Bowling Solutions or request a demo on our website.
What are your tips for bringing in more event business? Leave your suggestions in the comment section below.
https://strikerbowling.com/wp-content/uploads/2017/11/AdobeStock_56117233-CM.jpg
426
640
micmillst
https://strikerbowling.com/wp-content/uploads/2017/01/logo-sbs.png
micmillst
2017-12-01 01:55:40
2017-12-01 02:28:04
7 Tips to Get More Corporate Events for Your Bowling Centre