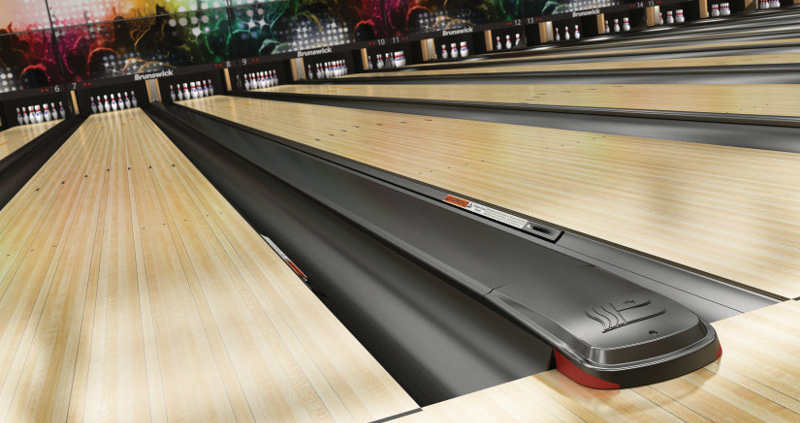 As the winter league season comes to an end it is important to keep in mind that maintaining pattern consistency is critical to ensuring your league bowlers return. It is also the time for city and provincial tournaments to begin. Ensuring your lane machine is clean and functioning properly is critical to creating a good experience for your customers. Here are a few things to think about.
The first step is to be sure that the lane is properly cleaned. Inconsistent cleaning can adversely affect your scores and cause you to lose league bowlers.
Check cleaner sprayer nozzles. Dirty or clogged nozzles can cause irregular lane coverage. Also, check the filters inside cleaner spray heads as well as the filter before the cleaner pump. Check your squeegee blades and make sure they can last the season. If they can't, replace them. Replacing these blades is not difficult and will be well worth the effort. And make sure the squeegee, old or new, is properly adjusted. If your lanes aren't completely dry prior to conditioning, your pattern will be compromised. Ensure the cleaner you are using is appropriate for the type of lanes you have and the stubbornness of the dirt and oil you need to remove. Invincible is by far our number one selling cleaner and is an excellent choice to remove many conditioners that are on the market.  For tougher jobs, Brunswick Judge® will easily remove oils that are designed to separate and therefore are usually more difficult to remove. Be sure to experiment to determine the best mixing ratio for your needs and use that mix consistently.
(More on the Brunswick's 3Cs – cleaners, cloths, and conditioners)
Don't make the mistake of changing patterns too often. Unnecessary pattern changes can just confuse your bowlers and make good scores too difficult to achieve. The best time to experiment with new patterns, new conditioners or even to do some maintenance such as changing the buffer brush is during the off-season. Dirt, dust, temperature, and sitting time are all things that can cause inconsistent patterns. So be mindful of these variables as well. However, if you need to make changes during the season, ask a professional to help you and keep your bowlers advised as to what you are doing and why. Your Striker Bowling team can offer you important tips and is just a phone call away.
Keep gutters, lanes, approaches, and capping free of dirt and dust. Dirt and dust are the number one contributor to wear and tear and can significantly reduce the life expectancy of your lanes and increase pattern break down.
Inspect your lanes! If you have synthetic lanes, make sure all the lane plugs are installed. Replace any broken screws. Repair any cracking or gouges in your lane using Inject-a-patch or approved lane epoxy. Make sure your panel seams are sealed too. Any of these issues, if not fixed properly, can cause significant lane surface damage. If you have wood lanes, repair any ball burns or exposed wood using urethane or water-based lane finish. Dips, raises and tilts on your lane surface can cause pattern changes and issues. Consult your CTF representative for the sanctioned numbers before making adjustments.
All major work should wait until the summer unless absolutely necessary. The same goes for replacing your lane machine. Your customers are your top priority and following these tips will help you keep them happier and eager for the next league season to arrive.
Adapted from Brunswick Bowling Center Newsletter, April 2015
https://strikerbowling.com/wp-content/uploads/2018/04/pro_lane_black_gutter_cap_rendering_2014.jpg
509
800
Chantal Suthons
https://strikerbowling.com/wp-content/uploads/2017/01/logo-sbs.png
Chantal Suthons
2018-04-11 02:47:11
2018-04-11 15:45:11
Top Tips for Transitioning Your Lanes to Summer